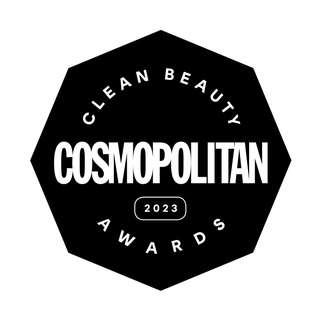 Let's start by stating the obvious: Even though this is our *inaugural* Clean Beauty Awards, clean is by no means a new thing in the beauty industry. In fact, clean is pretty much the beauty industry's official baseline nowadays. But despite being ubiquitous, there's no universal definition or clear set of guidelines tied to "clean beauty." Even the term "clean"—or its synonyms "green," "eco-friendly," and "all-natural"—isn't regulated in brand marketing or on product packaging. This is entirely confusing, we know, and exactly why putting together the Clean Beauty Awards felt so necessary this year.
Keep scrolling and you'll find 50 standout products in the skincare, makeup, and hair spaces—each of which has been tested, swatched, and sampled by the Cosmo beauty team and then thoroughly vetted by an outside panel of beauty experts (get to know 'em below!) before being crowned a winner. Down at the bottom, you'll also find Cosmo's current clean criteria, the specifics around our product selection process (it quite literally took months), and invaluable sustainable beauty tips from our experts too. Enjoy/thank us later/happy shopping, you know the drill.

---
Meet the Experts
---
---
---
---
Cosmo's Clean Criteria
There's no universal definition of the term "clean," which means everyone—from beauty brands to dermatologists—has their own interpretation. Right now, the Cosmo beauty team considers clean beauty to include brands and products that are not only effective and rooted in science but that also take people's well-being and the planet's well-being into consideration when being developed, manufactured, and sold. This means they often use the safest, highest-quality ingredients in formulas; utilize packaging that is refillable, recyclable, and/or created with sustainable materials; and are transparent with consumers about their production processes.
---
Our Product Selection Process
January 2022: Cosmo's team of four beauty editors begin researching and testing more than 600 products that meet our current clean beauty criteria.
November 2022: Cosmo beauty editors nominate 400 product finalists across 50 different categories, including hair, skin, and makeup.
December 2022: Finalists in each category send samples to our curated panel of clean beauty experts for review.
February 2023: Cosmo beauty editors comb through data from our experts to identify a winning product for all 50 categories.
March 2023: We share the winners and our testers' thoughts on clean beauty with you!
---
On model, clean skincare: Annika Inez earrings.
Photographer: Vanessa Granda. Fashion stylist: Andrea Zendejas. Beauty director: Lauren Balsamo. Digital creative director: Abby Silverman. Producer: Ruben Chamorro. Art director: Katie Buckleitner. Visuals editor: Michelle Uzomba. Hair: Izumi Sato. Makeup: Mark de los Reyes. Manicure: Elizabeth Garcia. Models: Brenda Mutoni, Carmen Fozzard, and Olivia Tomasino.

Deputy Beauty Director
Lauren Balsamo is deputy beauty director at Cosmopolitan, where she writes, edits, and produces all types of beauty content—from product reviews to personal essays and trend reports. She has covered beauty for nine years at Cosmopolitan and has contributed to Women's Health and Seventeen magazines as well. Follow her on Instagram.