For the main characters of Prime Video's The Summer I Turned Pretty, summer is when Belly Conklin (Lola Tung), Conrad (Christopher Briney), and Jeremiah Fisher (Gavin Casalegno) come alive. And in honor of their return to Cousins Beach in the upcoming second season of the hit show (mark your calendars for July 14), the cast partnered with American Eagle to launch an exclusive collection of apparel you'll def want to sport in the coming months.
Whether you're headed out to the beach, like our fave trio, or you're getting ready to watch the upcoming season alongside friends, each piece of this collection is filled with nostalgia. If the phrase "fun in the sun" had an aesthetic, it would be this. You'll find crocheted pieces and even baby tees—and yes, it's all live right now on ae.com.
Below, we caught up with Tung, Briney, and Casalegno to chat about their summer style, the AE x The Summer I Turned Pretty collection, Taylor Swift, and season two (obvi).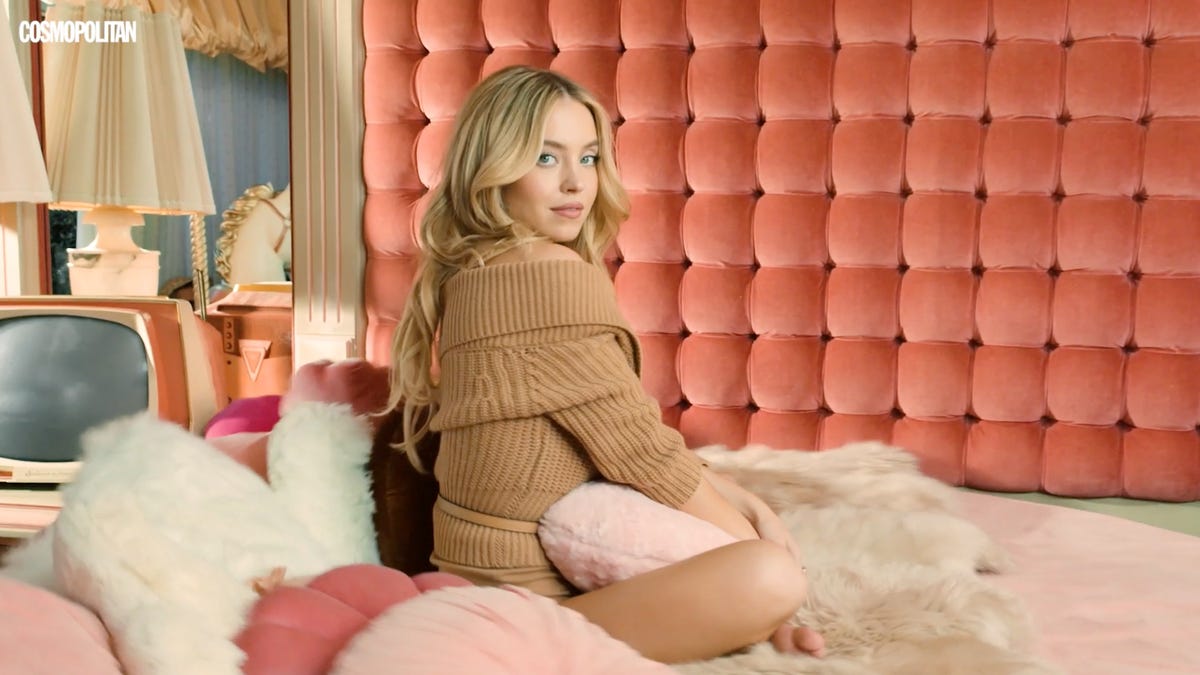 ---
Growing up I remember viewing American Eagle as one of the coolest brands. What has your experience been with the brand?
Tung: I was someone who loved American Eagle, especially in middle school. I would wear and shop there all the time. It was so cool to see how much the brand has grown just as my personal style has grown. And then, you know, being able to work with them and collaborate with them, and really figure out what things align with my personal style during the shoots, and everything was so much fun. We got to create some really cool looks and I'm very excited for the campaign and everything.
Casalegno: My favorite part about working with them has really been the collaborating part. I've been able to make outfits that really express my personality or who I am, and so that's been really fun working with them. They've always been a really cool brand, ever since I was in middle school. So it's really fun to be a part of their campaigns and what they're doing now.
Briney: I feel really lucky. They've been so kind to me and they've been super receptive to my thoughts and the things that I like. Everybody has different tastes and styles and sizing.
You each have your own personal sense of style. How would you describe your characters' fashion tastes? What pieces from this collection would you want to see them wearing?
Casalegno: In season two, Jeremiah is maturing a lot, and he has matured a lot since season one. I think what will kind of coincide with the growth of his character are the polos. I think the polos are kind of more, you know, they're on the beach, I think it just represents their family and their economic situation as well. A nice polo going to a college is kind of where Jeremiah is at.
Briney: Conrad stays in shorts, a T-shirt, and a flannel. Like, a little button down. I think if I was gonna throw something at him, I'd love to throw him like a cargo or just some sort of straight-fit pants. I'd like to see if he enjoys that or not. But that's for me to him. I know he's all about a casual button-down.
Tung: Belly has a very beachy, sort of laid-back but cute and pretty style. She spends a lot of time on the beach, obviously, and I would love to see her in a denim corset with baggy jeans. I would love to see her do sort of, like, a fashion moment like that. That would be so cool, just because I think it would be super fun and something different and I love a denim-on-denim moment. I do think she has a really beautiful wardrobe and a lot of very pretty pieces that she wears, especially in this next season. So it'd be cool to see something with a little bit of edge.
I'm here for Belly's hot girl summer! I'm admittedly a Conrad girl and I'm bracing for this upcoming season—the good and the bad. No spoilers, but Chris, how are you feeling about his arc this season?
Briney: I'm thrilled. I'm excited. I think there's not much I can say about it, but I can say that I'm excited for it to be out there. We had a lot of fun doing it. He's not always the—well, there's a few words I can use, but he's not the most considerate. He's on a journey, and it's fun to see someone on a journey. I think it's fun to see someone learning things about themselves.
I see Gavin laughing about this in the background. How are you feeling about Jeremiah?
Casalegno: Overall, I think Jeremiah has done a lot of maturing this season. I think you'll see a different side of him. I think the fun part is that you learn that he's still learning and he's still messing up. I think it will be a fun journey for people to go on because I think so many people think they have their life together until stuff hits the fan, and then you start realizing the areas in your life that you need to grow. And I think that that's Jeremiah this season. I think there's a lot of good that's going to come out of it, and I'm excited for people to see it.
I'm excited to watch this love triangle play out. What has the reaction been to the different ships? I know Lizzo is firmly Team Jere.
Briney: It's been so cool, dude. Like that's crazy that Lizzo watched the show. I will say, though, that the Empire State Building is Team Conrad, so.
Lola, are you rooting for anyone so far or are you just along for the ride?
Tung: I am very firmly Team Belly. Yeah, I'm along for the ride. I'm here for the journey, for her journey, and for what she ultimately decides based on where her heart is taking her.
I know there's little you can say, so if you could describe the upcoming season in one word, which would it be?
Tung: Rollercoaster.
Casalegno: Heartbreak.
Briney: Emotional.
Speaking of emotional, Taylor Swift's music is basically the soundtrack of the show. I still think about that last scene at the debutante ball between Belly and Conrad in season one. If you could pick one Taylor Swift era to describe your mood for this summer, which would it be?
Tung: For a very long time, I was a Red girl. I think that was the album that I used to listen to. It would be Fearless, Speak Now, and Red when I went to sleep all the time. I think Red is like—you know, it's fun, it's upbeat, but there are also some really soul-crushing songs on that album. It's very summery. Recently, Folklore has been on replay a little bit. That was the era that I was dressed as for the concert with my white, flowy American Eagle skirt, because it's a staple always. I think at this point in my life, maybe I'm in my Folklore era this summer.
Briney: I think she's phenomenal and so talented, but I'm not that familiar with her work, so I don't want to misrepresent myself. You can pick for me.
I'm feeling Reputation era for you.
Tung: That's what I was thinking!
Casalegno: I'm feeling the OG country music. I've been traveling so much that I think sometimes you gotta go back to your roots a little bit while you're out in the big city. So I would say that's probably my answer.
We're in our Eras era! What is your hope for fans who are watching this second season?
Tung: I think I am very excited for people to see the season. I hope that, you know, people usually start to have an attachment to the first season of a show—naturally, since that's the first thing that you see. But I hope that they can appreciate the growth that the characters have been through and the fact that this is a different season. I am excited for them to get another season that still has the heart of the books and is still magical and special and lives in this world. But it's very different because these characters are at a very different point in their lives.
Casalegno: I really hope people sympathize with, specifically in season two,more of where Jeremiah is coming from emotionally. I think that there's going to be a lot of really good heartfelt conversations and really good hard talks between a lot of the characters, but a lot from Jeremiah. I'm just really excited for people to see that side of him that he does have. He has more of a serious side versus the goofy side that people know him for. So I hope people can appreciate all facets of who Jeremiah is.
Briney: I also hope people can appreciate all facets of Jeremiah. I think everybody has their moments this season and I hope that the audience can find room to enjoy and explore everybody. There's like a lot of directions that it takes, and you get different sides of different characters.
You can shop the full The Summer I Turned Pretty collection at ae.com.


Associate Shopping Editor
Daisy Maldonado is an associate shopping editor at Cosmopolitan who loves writing about fashion trends, must-have beauty products, and digital culture. When she's not writing, you can almost certainly find her shopping (she knows her credit card numbers by heart) or obsessing over celebrity news. Although she's acquired an extensive closet over the years, her favorite item she owns is a Harry Styles Love On Tour hoodie she purchased at his concert in Manchester. Daisy's work has appeared on Refinery29, The Daily Beast, E! News, Allure and more. Keep up with all of her chaotic travels, NYC life and fashionable moments on her Instagram.