We may earn commission from links on this page, but we only recommend products we love. Promise.
15 Best Hair Removal Creams for Smooth Skin, Tested and Reviewed for 2023
I haven't waxed or shaved since trying the Flamingo Body Hair-Removal Cream (yes, seriously).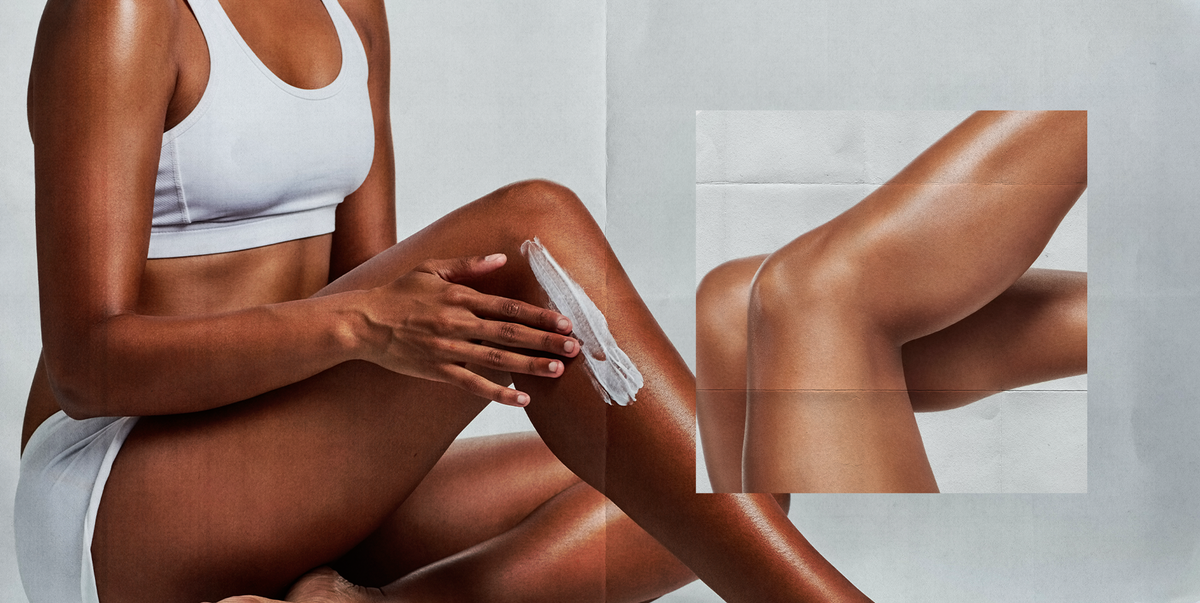 Getty
At the ripe age of 11, I decided to use the old, crusty, hair-removal cream that had sat abandoned in my mom's cabinet since before I was born. Unsurprisingly, it severely burned, itched, and peeled my skin off (it didn't help that I was also using it entirely incorrectly). After that, I swore off hair-removal creams in favor of using razors, bikini trimmers, at-home wax strips, and laser hair removal; none of which really "wowed" me. Until I finally decided to re-try depilatory creams last year and realized how far the formulas had come since I was a pre-teen. Now, in 2023, hair-removal creams are actually the quickest, easiest way to smooth, hairless skin—without the physical/emotional trauma.
Lemme give you a quick rundown: Hair-removal creams (aka depilatory creams) chemically "break down the tight bonds in your hair proteins, making them weak enough to break off," says board-certified dermatologist Karan Lal, MD. Generally, you'll swipe on a layer of cream, wait anywhere from 4 to 10 minutes, then rinse or wipe it off. It's seriously easy, but if you use the wrong cream on the wrong body part, you could be left with burned and inflamed skin. Which is why I tested out a handful of creams and chatted with Dr. Lal to compile the best hair-removal creams of 2023 for all skin and hair types, and preferences. Keep scrolling for a peek:
---
✔️ FYI: We updated this article in June 2023 to give you the most up-to-date info on hair-removal creams, including two tried-and-tested our editor is obsessed with, a dermatologist's take on hair-removal creams, and how to choose the best hair-removal cream for yourself.
---
Our top picks for the best hair removal creams in 2023:
Now keep reading for all of the best hair removal creams, like hair removal creams for dry skin, sensitive skin, bikini lines, and more. Then, Dr. Lal and I got into all the need-to-know information, like how to apply hair removal cream, if hair removal cream is better than shaving, and if hair removal cream is supposed to hurt (hint: nope).
Advertisement - Continue Reading Below
Advertisement - Continue Reading Below
Advertisement - Continue Reading Below
Advertisement - Continue Reading Below
Advertisement - Continue Reading Below
How do you apply hair-removal cream?
When you're ready to apply hair-removal cream, follow the directions, especially the length of time recommended to leave the cream on your skin. Every cream has different levels of thioglycolic acid (the chemical that removes your hair), so some creams can be used for ten minutes, while others will start irritating your skin after four minutes. You should always do a patch test on your upper thigh or arm 24 hours prior to confirm your skin can tolerate the formula before slathering it all over, says board-certified dermatologist Karan Lal, MD.
Once you've confirmed the cream is suitable for your skin, smooth a thin layer of cream (or foam or gel) on the hair you want to remove and leave it on for the suggested amount of time, always erring on the side of caution the first time (i.e.; If they suggest 5-10 minutes, wash it off at minute five). Then, use a warm, wet washcloth (or just water itself, depending on the formula) to remove the cream. Rinse your skin with a moisturizing, fragrance-free body wash, and always slather on a gentle moisturizer or occlusive ointment.
How often can you use hair-removal cream?
You can use hair-removal cream as often as every three days, but you might prefer to wait five to seven to avoid irritation, or based on how quickly your hair grows back. How often you decide to use hair-removal cream will fully depend on your hair and skin type. Some hair types grow back quicker than others, while some might only need to use hair-removal cream once a week or so. Luckily, hair-removal creams tend to keep you hairless a bit longer than shaving, since your hair is dissolved from the follicle, rather than just trimmed at the surface.
Can I use hair-removal cream on my private area?

Yes, you can use hair-removal cream on your "private area" (aka your pubic region). But keep in mind that the skin around your genitals is extremely sensitive, so you might have to take some precautions. Hair-removal cream should never go inside your genitals, which can result in burning, itching, and potentially even an infection. I always check the packaging on my hair-removal cream to make sure it's safe for my bikini line (and my favorites for this area are the Bikini Zone Hair-Removal Treatment Kit and the Nad's Sensitive Hair-Removal Cream).
To make sure your skin can tolerate the cream—whether you're using it on your bikini line or any other area of your body—start with a tiny patch test 24 hours before you plan to use the cream by dabbing it on your skin, then wiping it off after four minutes to see if you have any irritation.If you start to experience burning, redness, itching, or discomfort, immediately wipe off the cream with a warm washcloth, wash your skin with gentle soap and water, then dry off and smooth on a soothing, fragrance-free lotion.
Advertisement - Continue Reading Below
Does hair-removal cream hurt?

Hair-removal cream can sting a little bit, like when you use a chemical exfoliant, though it should ideally feel like nothing at all. And if it does, that's a red flag that the formula isn't agreeing with your skin and you should remove it immediately. "If your skin feels like it's on fire, wash the cream off asap and liberally layer on a 1 percent hydrocortisone cream to help calm down some inflammation and itch," says Dr. Lal.
Again, this is also whyit's so important to not only patch-test 24 hours ahead of time, but to also follow the directions on the cream's package, as leaving a hair-removal cream on too long can cause burning, peeling, dryness, and irritation. And if you have naturally sensitive skin, you should avoid using hair-removal creams on even-more sensitive areas, like your face and bikini line.
Is hair-removal cream better than shaving?
Whether you prefer hair-removal cream or shaving depends on your personal preference and skin type. If you get painful, irritated razor burn or ingrown hairs whenever you shave, you might prefer a hair-removal cream, which can be gentler. But hair-removal creams can also be too strong and cause burning and stinging for those with very sensitive skin (especially if you have eczema or keratosis pilaris), so you'll need to experiment a bit before making a decision.
Beth Gillette is the beauty editor at Cosmopolitan, where she covers skincare, makeup, hair, nails, and more across digital and print. She can generally be found in bright eyeshadow furiously typing her latest feature or hemming and hawing about a new product you "have to try." Prior to Cosmopolitan, she wrote and edited beauty content as an Editor at The Everygirl for four years. Follow her on Instagram for makeup selfies and a new hair 'do every few months.

Associate Editor
Siena Gagliano is the associate editor at Cosmopolitan, where she primarily covers beauty in the makeup, skin, and hair spaces, as well as some fashion and lifestyle. Wanna know how to get the best brows of your life? Gotchu. What about how to achieve ridiculously glowing skin, a super bouncy blowout, or exactly how to use that viral face mask? Check, check, and check. Before joining Cosmopolitan, Siena was a writer at Bustle and several other media outlets. As NYC's newest resident, she has vowed to find the best (extra) dirty martini this city has to offer—and yes, that means ~attempting~ to try every cute cocktail spot in the city (hit her up with some recs, pls). Follow Siena on Instagram where you'll see that her account is mostly dedicated to pics of her cute dog and that magazine life.

Brooke Shunatona is a contributing writer for Cosmopolitan.com.