We may earn commission from links on this page, but we only recommend products we love. Promise.
10 Best Self-Tanners for Your Face for a Natural Glow, Tested & Reviewed in 2023
Uhm, did you know they double as contour?!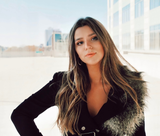 By Siena Gagliano
Hey there, quick tip: If you really want to tan your face to pull off a convincing faux glow, you should be using a dedicated self-tanner for your face. These self-tanning serums, lotions, towelettes, and mists have totally elevated my fake tan game and skincare routine thanks to being jam-packed with good-for-your-skin ingredients. They also make a great, long-lasting contour, aka #Tantour—i.e., sculpting your face with self-tanner—and I'm ready to show you 10 of the best to try now.

With so many new tanning formulations and brands in recent years, there are a ton of different types of face tans on the market. So to make your life even easier and your face even bronzier, I personally tested and reviewed 10 of the best self-tanners for your face around, and I've got everything you need to know about them, including what specifically to look out for, below.
---
✔️ P.S., This is new, up-to-date info, bb. We updated this article in June 2023 to add new face self-tanners the internet won't stop talking about, deleted outdated oldies, and checked in on the latest in fake tan, just for you.
---
Our top picks for the best self-tanners for your face in 2023:
Now keep reading for the full breakdown of the best facial self-tanners, according to product reviewers, my personal testing, and tips on how to choose the best face self-tanner, which ingredients to look out for, and what formulations you should consider before you buy.
Advertisement - Continue Reading Below
Advertisement - Continue Reading Below
Advertisement - Continue Reading Below
How to choose the best self-tanner for your face:

Evaluate the ingredients
The great thing about facial self-tanners is that they're usually loaded with great ingredients that'll amp up the efficacy of your skincare products. Look for tanners that include ingredients rich in antioxidants and humectants, such as hyaluronic acid, aloe vera, and glycerin, or even one filled with chemical exfoliants (like Coola Sunless Tan Anti-Aging Face Serum) for smoother, more even-looking skin.
Compare the formulas
The days of fake tanning your face with a mitt and self-tanner for the body are over because it's 2023, and not only are there tanners made exclusively for the face, but they also come in a host of different formulas. Your options? Lotions, oils, drops, serums, sprays, and even towelettes.
Typically, oils, drops, and serums are great if you want to incorporate your tanner into your skincare routine because you simply add them to your face moisturizer (try: Isle of Paradise Self-Tanner Drops or Dolce Glow Goccia di Sole Hydrating Self-Tanning Serum Drops). Sprays and towelettes are awesome for those who want something quick and easy due to their fast application (try: Australian Glow Facial Bronzing Mist), and lotions are your OGs—slather 'em on just as you would a self-tanner for your body (try: Jergens Natural Glow Self Tanner Face Moisturizer).
Choose the color deposit
If you've ever used a self-tanner before bed, you may have ~unpleasant~ memories of waking up with stained sheets and a whole lot of muddy-looking color pre-shower. The culprit? Instant bronzing solution. Yes, it's great to see where you apply the color so you can avoid streaks, but not so much if you don't want to appear, let's say, intense in the development stage.
Luckily, with face tan, you can choose a formula with a clear, gradual, or bronzing solution. If you go with the latter, you don't have to worry about an uneven application in most scenarios. If you choose a formula that mixes with your moisturizer and develops quickly, it won't be as intense due to it being diluted. Not only that, there are a ton of face tanners on the market that gradually develop, so rest assured, stained sheets will not be in your future.
Advertisement - Continue Reading Below
Why trust Cosmo?

Siena Gagliano is an associate editor at Cosmopolitan who writes beauty, and has three years of experience writing about beauty, fashion, and lifestyle news. She's an expert at researching and writing skincare stories, like the best self-tanners for pale skin and the best drugstore self-tanners. She regularly tests and analyzes face self-tanners on her own skin for efficacy, while working with the industry's top cosmetic chemists and tanning experts to assess new formulas and products.

Associate Editor
Siena Gagliano is the associate editor at Cosmopolitan, where she primarily covers beauty in the makeup, skin, and hair spaces, as well as some fashion and lifestyle. Wanna know how to get the best brows of your life? Gotchu. What about how to achieve ridiculously glowing skin, a super bouncy blowout, or exactly how to use that viral face mask? Check, check, and check. Before joining Cosmopolitan, Siena was a writer at Bustle and several other media outlets. As NYC's newest resident, she has vowed to find the best (extra) dirty martini this city has to offer—and yes, that means ~attempting~ to try every cute cocktail spot in the city (hit her up with some recs, pls). Follow Siena on Instagram where you'll see that her account is mostly dedicated to pics of her cute dog and that magazine life.